Experienced Real Estate Litigation
&

Transactions Attorneys
Real Estate Lawyers Serving the State of Florida
Retaining a knowledgeable and experienced real estate attorney with a deep, comprehensive knowledge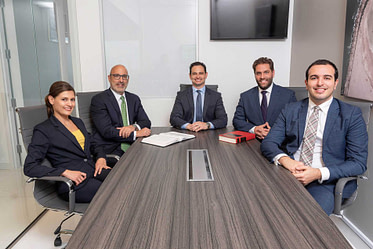 of all aspects of real estate law is the cornerstone of success in any real estate litigation dispute or real estate purchase/sale transaction.  In the transactional context, for individuals and businesses, acquiring real estate is a major investment. For most, real estate transactions are the largest financial transactions that a person will deal with. It is essential that  those looking for legal representation in a real estate litigation or transaction context procure experienced and diligent real estate lawyers to protect their interests, to make certain that transaction or litigation is handled in accordance with the applicable federal, state, and local/municipal law. When it comes to real estate litigation or transactions, time is almost always of the essence.
Whether your real estate issue involves landlord tenant litigation, real estate purchase and sale transactions, declaratory actions for tax deed surplus funds, condominium or homeowner association disputes, commercial eviction, residential eviction unlawful detainers, ejectment actions, commercial construction disputes, residential construction disputes, construction lien foreclosures, code violation proceedings, code violation appeals, land use and rezoning applications, commercial lease drafting and negotiation, or residential lease drafting and negotiation, our team of real estate attorneys can provide insightful legal counsel. To learn more about the basics involving a real estate purchase and sale transaction, visit this free legal resource. For some basics on landlord tenant disputes, read more on this site. Click here to learn more about ejectment actions and unlawful detainer suits. For a basic overview on foreclosures under Florida's condominium and homeowners association laws, click here.
As real estate lawyers with over 45 years of legal experience not only in real estate litigation and transactions, but in other areas that affect this area of law, including corporate law, commercial law and bankruptcy law, we at Edelboim Lieberman Revah Oshinsky PLLC are well-qualified to counsel you in any real estate related matter. Our law firm is comprised of am experienced team of real estate attorney who are authorities in their respective fields.
To discuss your real estate issue, call and schedule a free consultation with one of our real estate attorneys at (305) 768-9909. 
Representing Real Estate Developers, Landlords, Investors, Tenants
&

Lenders
Our real estate practice areas are diverse and address virtually every transaction, dispute, or legal action that might arise in relation to, or affecting, real property.
Some of the specific types of real estate matters we handle include:
Real estate closing representation
Breach of real estate contract
Evictions
Mortgagee representation
Property liens
Right of way and access issues
Title and ownership transfers
Title dispute representation
Title Searches and Title Examinations
Title insurance counsel and
Real estate law is complex, multi-faceted, and full of fine print that could leave you subject to substantial risk. Our real estate attorneys provide in-depth, insight counsel on any real estate law related matter. Our real estate lawyers have achieved sustained success in real estate purchase disputes, landlord tenant disputes, zoning and land use disputes, code enforcement violations, foreclosure suits and more.
Contact a real estate lawyer today at (305) 768-9909 to find out how we can help.
Edelboim Lieberman Revah Oshinksy PLLC
is Here to Help
Schedule a Free Consultation
The information on this website is for general information purposes only. Nothing on this site should be taken as legal advice for any individual case or situation.This information is not intended to create, and receipt or viewing does not constitute, an attorney-client relationship.