Bankruptcy Law Firm – Experience You Can Trust
Full-Service Bankruptcy Lawyers Serving Miami Dade, Broward Palm Beach
&

Beyond
Helping Creditors and Debtors Throughout Florida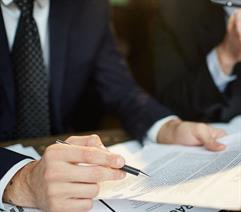 Bankruptcy law is codified under federal statutes. If you are searching for an effective bankruptcy lawyer in South Florida, you've come to the right place. If you're struggling with business debt, credit card debt, medical bills, student loans, or other forms of debt, declaring bankruptcy may be the solution you need. The federal bankruptcy code is complex. Formulating a proper bankruptcy strategy is essential to ensure your immediate needs are met without sacrificing your long-term goals.
With our law firm's experience in this bankruptcy litigation, our bankruptcy attorneys can accurately assess your financial affairs and work with you to deliver optimal results. Whether you need to know if filing for bankruptcy is right for you or you need legal representation as a creditor, our Florida bankruptcy lawyers in can help.
For more information about the federal bankrutpcy code, and the text of the federal bankruptcy statutes, click here.
Put a Bankrupty Lawyer from Edelboim Lieberman Revah Oshinsky PLLC on your side. Contact us at (305) 768-9909 to get started with a free consultation.
Edelboim Lieberman Revah Oshinsky PLLC represents individual and corporate debtors in Chapter 7, Chapter 11, and Chapter 13 bankruptcy proceedings. We offer our experienced bankruptcy legal counsel throughout South Florida. Our  bankruptcy lawyers also provide full-service representation for individual and corporate creditors and debtors.
Our Bankruptcy law firm provides a range of legal services to debtors and creditors alike. These include:
Individual Bankruptcy Legal Services, including Chapter 7, Chapter 11, and Chapter 13 bankruptcy cases. We represent individual debtors interested in discharging and/or restructuring their debt to obtain a fresh start. Our attorneys can help you obtain immediate and meaningful debt relief. We can also assist you in creating a repayment plan and understanding your exempt property and other bankruptcy protections.
Corporate Bankruptcy Legal Services, including Chapter 7 and Chapter 11 cases for corporate clients. We represent small, mid-sized and large businesses in reorganizations and liquidations of assets to discharge the debt. We are also skilled in handling assignments for the benefit of creditors, a powerful alternative to bankruptcy.
Services for Creditors, including representing creditors' rights in bankruptcy proceedings, adversary proceedings, and all other proceedings.
Contact Our Bankruptcy Lawyers in Miami
When it comes to bankruptcy proceedings, even the smallest details could influence the entire outcome of the case. With our commitment to our clients, our bankruptcy attorneys in Miami, FL are prepared to put your needs first.
Contact our Edelboim Lieberman Revah Oshinsky PLLC at (305) 768-9909 for a free, confidential case evaluation
Edelboim Lieberman Revah Oshinksy PLLC
is Here to Help
Schedule a Free Consultation
The information on this website is for general information purposes only. Nothing on this site should be taken as legal advice for any individual case or situation.This information is not intended to create, and receipt or viewing does not constitute, an attorney-client relationship.